STANLEY® FATMAX® Insulated Screwdriver Slotted 5.5 mm x 150 mm
1-65-413
STANLEY® FATMAX® Insulated Screwdriver Slotted 5.5 mm x 150 mm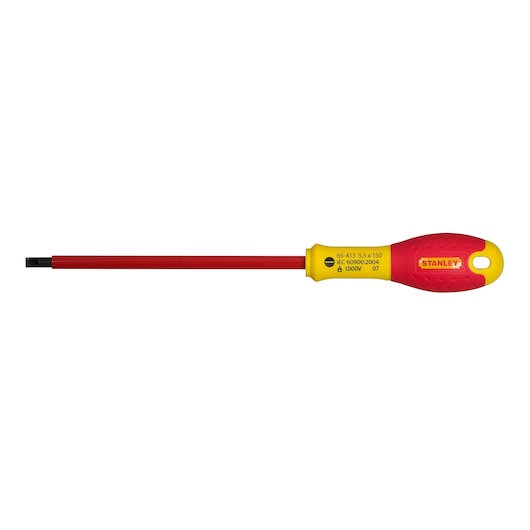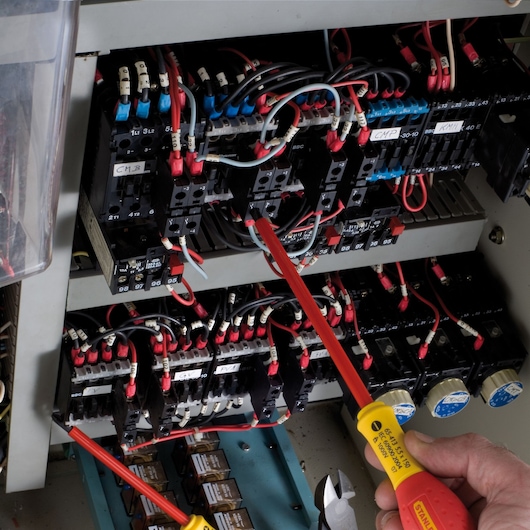 1-65-413
STANLEY® FATMAX® Insulated Screwdriver Slotted 5.5 mm x 150 mm
Available in: India
*On Average vs STANLEY® Cushion Grip™ Screwdriver (S5.5) : 65-483 Vs 64-916
100% TIP LIFE*: CNC precision-machined tip delivers strength, performance and long product life. Ensures optimum dimensional fit, accuracy and control, and reduces cam out. Sand-blasted for protection against corrosion and wear
View more features
Product Overview
Developed and manufactured to exact specifications at the STANLEY® production facility at Arbois, France, the STANLEY®FATMAX® Insulated Slotted5.5mm x 150mm Screwdriver is part of the company's high-performance professional VDE-certified screwdriver line-up, featuring a heavily insulated construction designed specifically for service work around high voltage applications. The STANLEY® FATMAX® Insulated Slotted 5.5mm x 150mm Screwdriver is approved by the VDE Institute for use in applications up to 1,000V. Constructed from heavy-duty carbon silicon steel for added strength, performance and extensive product life, this robust and reliable electrician's tool delivers +100% longer tip life*. The tip has been hardened, sand-blasted and treated with a black phosphate coating. It has also been precision-machined for a highly accurate head-to-fastener fit.
Additional Features
AN INDUSTRIAL GRADE: 1000V a.c. insulation - Tested to EN IEC 60900:2018 meaning that that this screwdriver is suitable for live working use up to 1000V a.c
BLACK PHOSPHATE COATING: Black phosphate coating on the tip delivers exceptionally long working life
CLEAR TIP LABELLING: Allows users to select the correct screwdriver for each job
COMFORTABLE ERGONOMIC HANDLE: Large soft-grip, tri-material ergonomic handle designed to reduce of fatigue and increase comfort in repetitive applications
COMPATIBLE WITH STANLEY® FATMAX® VDE SCREWDRIVER RANGE: Certified by the VDE Institute for applications up to 1,000V
EXTREMELY TOUGH POLYAMIDE BLADE INSULATION SLEEVE: Makes it resistant to impact at -25 degrees centigrade and ensures increased abrasion resistance and reduced moisture absorption
HANDLE MOULDED DIRECTLY TO BAR: For a virtually unbreakable bond, delivering exceptional reliability and long product life
LARGE DIAMETER HANDLE: Which offers great torque needed for driving wood screws
MADE IN FRANCE: Manufactured at the STANLEY® Arbois factory in France to rigorous standards and specifications for outstanding usability, durability and reliability
NARROW WAIST AND SMOOTH, DOMED END: Deliver excellent torque, speed, control and ease-of-use in challenging fastening or loosening applications, ideal for driving wood screws
SCREWDRIVER TYPE: Insulated slotted, Size: 5.5mm x 150mm
TESTED: Individually tested to 10,000 volts
TETHERING HOLE: Integrated into the handle, ensuring tools are never mislaid or dropped, and delivering additional safety for users when working at heights
VDE APPROVED: To 1,000V Heavy-duty plastic sheath insulation runs the full length of the bar to protect the user from live current. \nRed handle identifies the tool as fully compliant with VDE standards. Suitable for use by professional electricians
Specifications
| | |
| --- | --- |
| Overmold on Handle | Yes |
| Product Packaging Style | Bulk |
| Handle Type | Round (large Profile) |
| Product Width | 30 mm |
| Blade Material | Carbon Silicon |
| Screwdriver Head Type | Slotted |
| Product Height | 250 mm |
| 1000V Electrical Insulation | Yes |
| Product Weight | 77 g |
| Number of Pieces | 1 |
| Product Weight Gross | 77 g |
| Is it a Set | No |
| Product Length | 30 mm |
Support
Warranty
Unfortunately, the warranty information cannot be retrieved for this specific product. Please review the information about our warranties.
Learn More
Service
We take extensive measures to ensure all our products are made to the very highest standards but on the rare occasion that you need our help & support, we've got you covered. Just get in touch.